August 26, 2019
The Difference Between Mentoring & Training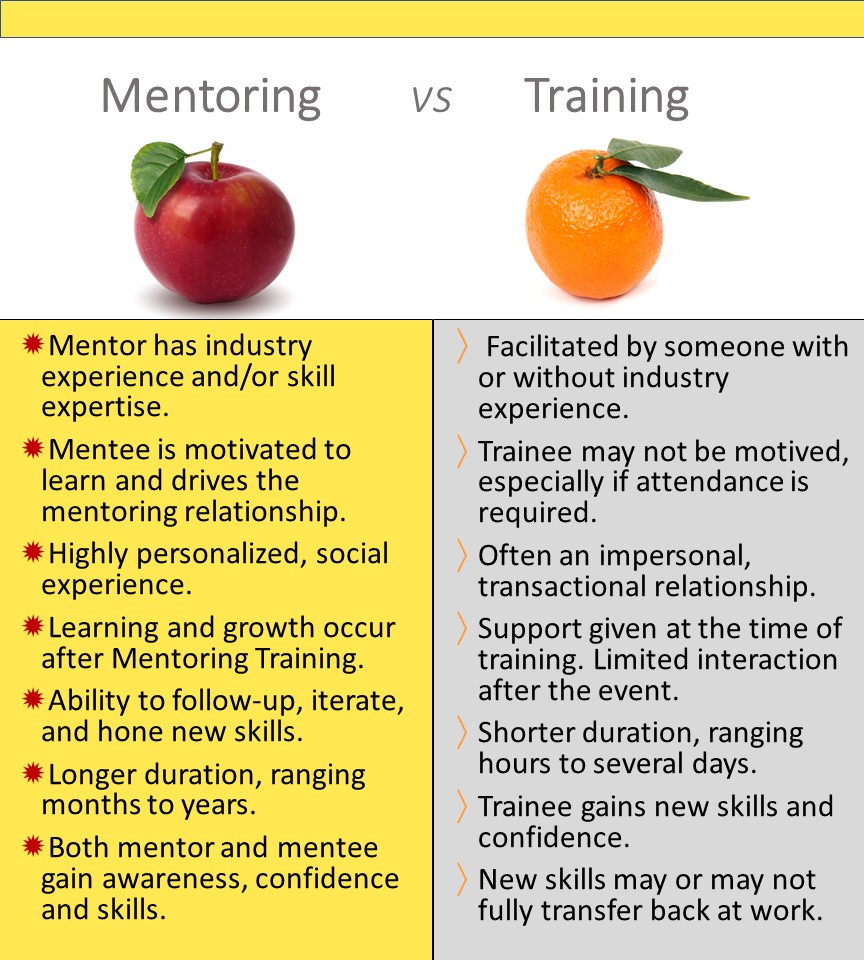 How is mentoring different from training? It's a great question! And it's common for leaders and senior managers exploring a mentoring program to ask about. After all, organizations invest valuable time and money into training employees to be effective and productive. So, what does mentoring bring to the workplace (and to employees) that training doesn't? Let's look at 3 key differences.
First some background. Training is designed around the "average learner". It looks at the group of trainees as a whole. Then, facilitators build content around where the group is now and where they need to be. For example, if you enroll in a Basic Excel course, participants possess a range of experience coming in. Some may not have worked with Excel at all, while others have Excel skills but need tips & tricks for better navigation. With training, learning happens in the classroom and (hopefully) transfers to the workplace. Training is an event.
Mentoring, on the other hand, is a professional development tool in which a less experienced employee seeks advice, learning, and support from a more experienced professional. Unlike training, which may be required, mentoring is an ongoing social learning relationship between two people. Mentoring happens away from the classroom, computer, or smart device. It's highly individualized. Training is important for mentees and mentors, but it's just the beginning. Mentoring partners decide after training where they want to go and the skills/attitudes/ideas to be gained. This is a huge paradigm shift!
The key difference between mentoring and training is the relationship. A mentor-mentee relationship is personalized, confidential and friendly, while a trainer-trainee relationship is often impersonal, with a "teacher/student" vibe. Typically, one mentor is matched with one mentee. One trainer may be responsible for an entire group of employees. The result is that a mentoring relationship is more collaborative and transformative than a training relationship. Mentoring relationships last months or even years, whereas training typically lasts 1-hour to a few weeks.
Outcomes are a second big difference. In mentoring, skills gained are long-term and practical. Growth is intended to help the mentee reach her long-term goals. (Examples: learning how to move from tactical to strategic thinking, gaining expertise in building a stronger team, honing professional presence, etc.) In training, skills tend to be limited to points pertaining to specific duties (how to complete compliance paperwork, for example).
The benefits of mentoring versus training are the third variance. Mentoring provides mentors and mentees with mutual support; the mentor gets a sense of satisfaction from being seen as a source of wisdom, while the mentee gets invaluable advice and a go-to person with whom to discuss challenges, goals, and opportunities. Training provides a simpler kind of support with practical know-how and increased skills but doesn't always include a plan for how to apply the skills back at work.
At Legacy Talent Development, we are huge proponents of training AND mentoring! If you've been in a mentoring relationship as a mentor or mentee, we'd love to hear how you contrast your mentoring experience with your formal training experience.